safety surfacing for playgrounds, community parks, and school yards
AquaSeal offers superior safety surfacing for indoor and outdoor playgrounds and play areas.
Whether you are designing or reclaiming a community playground, city park, or school yard, we have what engineers, landscape architects, and builders look for when creating clean, modern, and critical fall-height rated play spaces for children of all ages.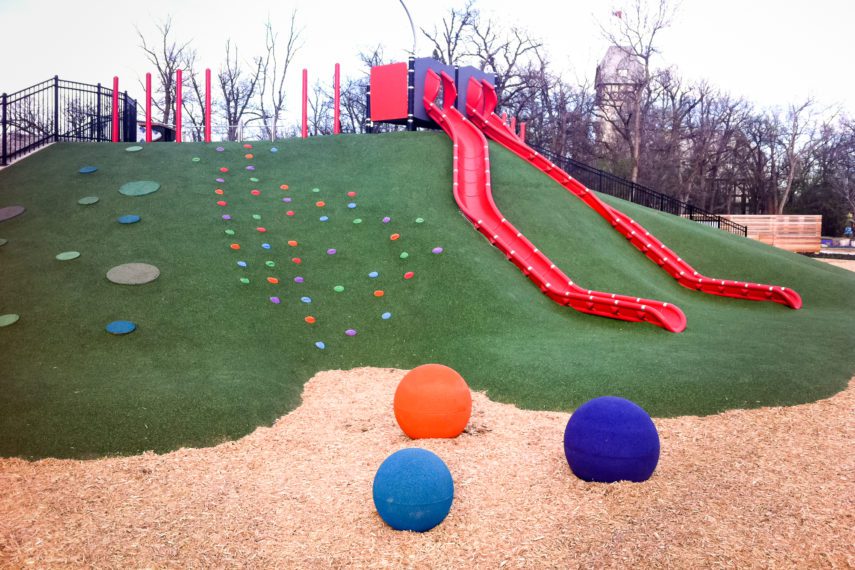 epdm safety surfacing
With the brilliant colors and design possibilities of EPDM Safety Play Surface, we can bring any indoor or outdoor playground to life with style, design, and color.
EPDM Playground Surfacing is our most cost-effective, all-weather safety surface for nearly anywhere aesthetics, comfort, and slip resistance are desired. Made of rubber granules, water drains rapidly through its coarse base layer to prevent freezing in the winter, making it a great choice for playgrounds, outdoor athletic tracks, walking paths, and patios.
EPDM can be installed in any form and contoured to create 3D shapes for visual interest. To add even more dimension to your surfacing project, we can craft domes for use as seating, creative play, or a one-of-a-kind design.
envirofluff safety surfacing
EnviroFluff is a state-of-the-art cushion base material perfect for playgrounds, schools, and water play zones with a poured in place safety surface applied on top.
A terrific choice for playgrounds, schools, outdoor play spaces, and splash pads, EnviroFluff is not harmful to children or the environment. This innovative safety surfacing material is 100% recyclable, chlorine resistant, and will not degrade over time.
EnviroFluff can be applied as a cushion base under Play Flecks, Water Flecks, or any of our poured in place safety surfacing options. With its resistance to environmental deterioration and superior fall height to traditional SBR rubber, EnviroFluff is an excellent choice for your safety surfacing project.
play flecks innovative safety surfacing for playgrounds
AquaSeal is pleased to be a supplier and worldwide, certified installer of Play Flecks®, a safety surfacing option for playgrounds and play spaces.
The Play Flecks® system is a unique blend of innovative technology and undeniable practicality that enables you to improve the safety and beauty of any outdoor play space.
With its outstanding U.V. and slip resistance, Play Flecks® surfacing is installed as a seamless poured-in-place safety surface. When combined with EnviroFluff® cushion base, Play Flecks can provide long term safety compliance with high energy absorbing qualities.
Deck Armor Safety Surfacing
Non-Porous Flexible Rubberized System solution for water play areas, walkways, bleachers, pool decks, and splash pads.
Deck Armor is a safety surfacing system comprised of combining a resilient EPDM rubber granule with a flexible water-based polyurethane coating. The granule provides anti-slip properties with a softer feel to bare feet.
playground safety surfacing installation
AquaSeal is a worldwide installer of playground surfacing, playground mounds, 3D spheres, playground flooring, and more.
Committed to playground safety, we offer critical fall-height rated safety surfacing to minimize the risk of injuries and meet ADA requirements. Our safety surfacing options for indoor and outdoor play spaces include eco-friendly surfacing made from recycled materials that is durable yet easy to repair; poured-in-place surfacing that provides a smooth and stable surface that drains properly; solid surfacing that won't harbor animal feces, hide broken glass, or be overrun with grass and weeds – all of which can happen over time with sand, gravel, and wood mulch. Offering a wide array of color selections with the ability to incorporate vibrant borders, logos, mascots, and school crests, we can create a truly unique playground design that reflects your brand.
We specialize in landing pads and feature pads That add a cushion of protection and eliminate divots at the base of slides, under swings, and around various playground features. Our custom-made 3D playground spheres create an interactive play space that truly inspires the imagination.
offering certified installation and superior products for playgrounds
Our playground installations provide a safe and aesthetically pleasing landscape, while enhancing the play experience with sought-after options.
We can create playground mounds and humps that transform the terrain and provide fun spaces to climb and navigate. We can design 3D spheres that become fun obstacles, colorful seating, and inspire imaginative play. With AquaSeal, you can be assured we will create a space that engages the mind, exercises the body, and encourages healthy competition.
Ready to talk about your project? Have an existing playground surfaces that you would like remove, reseal, and repair? Call or contact us today.